---
Share On WhatsApp!
---
KLARITY LaserTox V-line Shape Up Set
NO MORE DOUBLE CHIN!
INSTANT RESULTS IN 40 MINS
[1-5CM REDUCED!!]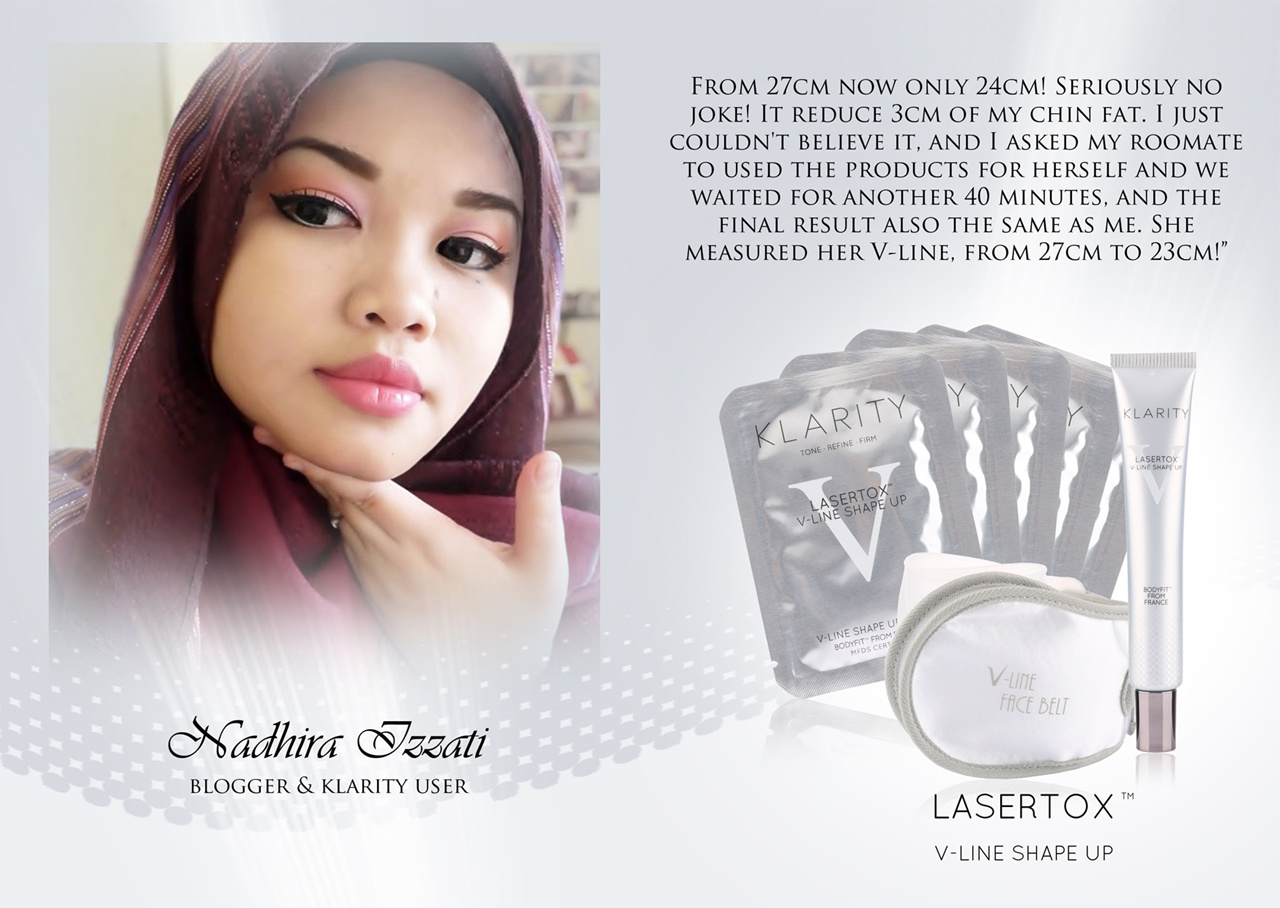 How to use LaserTox V-line Shape Up Mask
Klarity LaserTo V-line Shape Up Review by Bloggers
KLARITY™ Lasertox™ V-Line Shape Up is an intensive 5 days treatment to shape and lift the face. The 3-in-1 set includes:
1. V-Line Shape Up Sheet containing BODYFIT™1 which penetrates into the skin to tone the V-line and redefine your facial contour, reduce puffiness by improving drainage and water distribution throughout skin tissue. It is enriched with Adenosine, accelerating fat and double chin reducing process, revealing a more defined contour and improved skin elasticity after first treatment.
2. Velvet silicone belt which fits precisely along the face contour and designed with unique acupuncture points that exert pressure to help enhance facial blood circulation for a better result.
3. V-line Shape Up Cream which is a light cream that delicately hydrates skin from deep within. Also containing BODYFIT™1, it restores the skin firmness to lift the oval of the face. Face appears slimmer and visibly lifted.
Achieve small-face V-contour effortlessly with no down time.
1BodyFit™ is a natural substances capable of inhibiting the activity of fat tissue and visibly improving skin firmness.
How to use:
Step 1: Cleanse and pat dry face before placing unfolded V-Line mask below chin.
Step 2: Align your chin with the indication line on the silicone belt and secure the velcro flaps at the top of your head with a slight degree of tightness. Let the belt work its magic over the next 40 minutes.
Step 3: After removing silicone belt and mask, massage remaining essence onto neck and chin. Follow-up with V-Line Shape Up cream to firm up the now slimmer chin area while the effects of the mask essence progresses over the next 72 hours. 
CAUTIONS: AVOID USING ON BLEMISHES, PIMPLES, IRRITATED OR SUNBURNED SKIN. STOP USING IF SKIN BECOMES RED, SWOLLEN, OR ITCHY DURING AND AFTER USE. IF PAIN PERSISTS AFTER THE MASK IS REMOVED AND ABOVE SIGNS OCCUR, DISCONTINUE USE IMMEDIATELY AND CONSULT A DOCTOR. AVOID CONTACT WITH THE EYES. IF CONTACT OCCURS, RINSE EYES THOROUGHLY WITH RUNNING WATER. KEEP OUT OF REACH OF CHILDREN. FOR EXTERNAL USE ONLY. STORE IN ROOM TEMPERATURE. KEEP AWAY FROM DIRECT SUNLIGHT. TO PREVENT THE MASK FROM DRYING, USE SOON AFTER OPENING.
---