---
Share On WhatsApp!
---
Set 1) 1 Box of 7 Ampoules - $50 
Set 2) 3 Boxes of 7 Ampoules (Total 21 Ampoules) - $120
Set 3) 1 Box of 21 Ampoules + FREE Nano Mist Sprayer - $140
Mask Set) 1 Box of 5 Ojesh facial masks - $55

 
LIFTING TREATMENT FOR VISIBLY FIRMER SKIN
Effective, intensive treatment with hyaluronic acid and plant extracts restores the skin's elasticity


The condition of our skin is affected by our lifestyle and genes. As we grow older, our experience, maturity and life stories show in our
faces and add character to our looks. Our skin is never still: We blink up to 20,000 times a day, 
and move our faces with concentration and expression. But as lines begin to appear, 
we often feel unable to embrace them. So, what to do about these »flaws«?
As our protective mantle, the skin is constantly being renewed: Fresh cells make their way to the surface, 
while old ones are shed. But as we get older, we lose more and more collagen
— the most important structural protein of the connective tissue
— and our skin becomes thinner and drier. Its cells store less water. 
There are no two ways about it: Mature skin quite simply needs more care.
what does OJESH do?
✔️Moisturises and tones skin
✔️Prevents aging
✔️Prevents spots
✔️Repairs damaged skin
✔️Preserves masculine charm
✔️Cares for skin after micro plastic surgery
✔️Reduces pimples
✔️Improves skin immunity
other than that,OJESH also...
✨ Helps lighten scars & pigmentation too!
✨ Reduce size of pores
✨ Face will get smoother!
✨ Face will look more glowy and radiant!
* Ojesh is 
safe for sensitive skin / pregnant and nursing mummies!
THIS AMPOULE IS ALSO AVAILABLE IN A SHEET MASK FORM!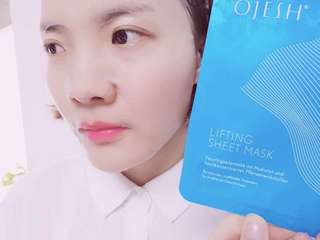 AMPOULE TREATMENT FOR OPTIMUM SKIN TONE
If you know and love your skin, you'll understand the importance of treating it well. 
Our specially developed intensive LIFTING treatment from OJESH® is especially high in water-binding hyaluronic acid, 
allowing it to smooth out wrinkles effectively on the face, neck and décolletage.
In combination with specific plant extracts, it produces a firming active-ingredient complex, 
which actively plumps up the skin from within and gives it a radiant glow. 
As a highly concentrated energy boost, it replenishes moisture levels and supports the skin's natural firmness.





Application
After cleansing the skin, carefully open one ampoule and apply the contents evenly to the face, 
neck and décolletage, gently massaging in.
Complete the care routine with a day or night cream if you wish. 

Or, empty the contents of 1 ampoule into the nano mist sprayer, and fill water up to the 5ml mark, and spray on skin.
Can be conveniently brought outdoors, and sprayed as and when needed.

The ampoule treatment can be used as needed or as an intensive daily treatment for 21 days.




WHY IS IT EFFECTIVE?


AMPOULE TREATMENT FOR SOFTER, SMOOTHER SKIN
Our innovative LIFTING formula combines active ingredients including hyaluronic acid, natural firming substances and plant extracts with the effects of so-called NMF (Natural Moisturising Factor) components. Together, these leave the skin feeling soft and fresh. By stabilising the moisture content via the top layer of the epidermis, they diminish fine lines and wrinkles caused by dryness. They also support cell activity to lastingly improve elasticity. The result is a smooth, even complexion that is a sign not only of external beauty but also of inner balance, of someone who is at peace with themselves and loves the skin they're in.
Having the right water content in our connective tissue keeps our skin smooth and supple. This is regulated by the body's own high-performance wrinkle-smoother, hyaluronic acid. A single molecule of this active ingredient can retain 6000 times its own weight in water – but from around the age of 25, the body starts to produce less and less of it. By the time we reach our 60s only around 10% of our initial level remains detectable, and our skin has lost much of its elasticity.


Hyaluronic acid can intervene in this process, gently, subtly and as needed, to plump up wrinkles from within, with no side effects. For the products in the LIFTING range from OJESH® we have developed a formula with different proportions of hyaluronic acid to offer just the level of skin care you need.


The combination of hyaluronic acid with natural ingredients and highly effective plant extracts — such as Alpine edelweiss, whose active ingredients intercept harmful free radicals to lastingly reduce skin ageing — has nourishing, protective and regenerating properties, which smooth out fine lines and keep skin firm. What's more, our active-ingredient complex stimulates the skin's natural repair mechanism and cell renewal, as tissue-strengthening effects can also unfold in the lower layers of the skin.


HOW OJESH SAVED THE SKINS OF MANY MEN AND WOMEN!


---