---
Share On WhatsApp!
---
USUAL PRICE $45.00!
Legend Age Lipstick is an all-natural healthy lipstick enriched with moisturising and hydrating ingredients to give your lips soft, super-shiny and a unique natural colour depending on the pH value of each individual's skin. 
4 in 1 Lipstick – can be used as moisturizing lip balm, natural color lipstick, hydrating lip mask, sunscreen with SPF for the lips

Gives Natural and healthy cherry color

Changes color according to your lip's pH level

No presence of toxic ingredients – safe for consumption

Long lasting lipstick without residue after eating, drinking or kissing

Heals cracked, chapped, dull and black lips

Hydrating effects during dry weather like winter

Safe for kids and pregnant women

Suitable for men with unhealthy lips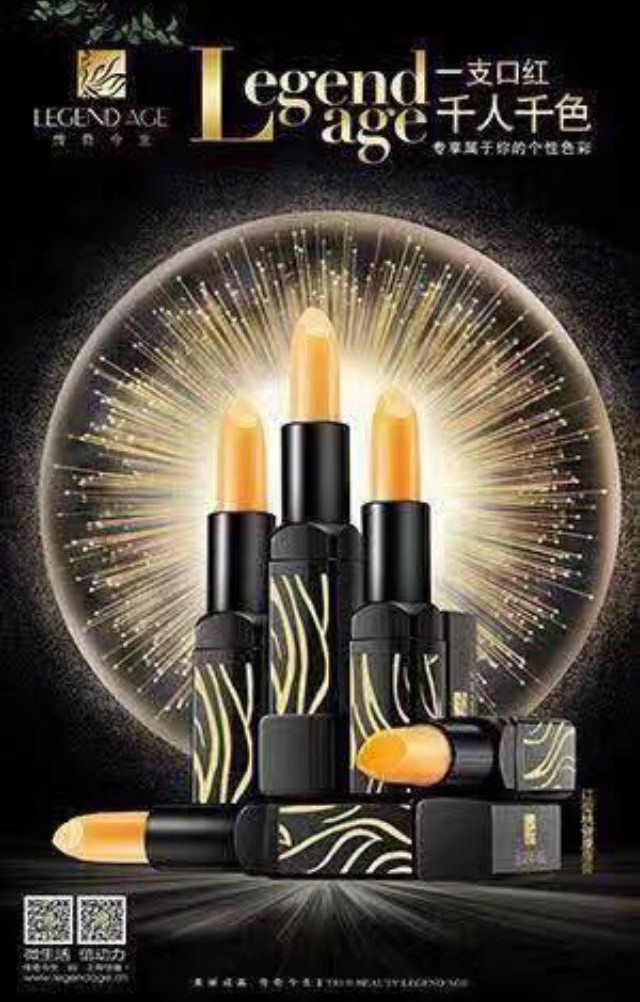 Nowadays, lipsticks become a necessary makeup product for most of women. However, most of lipsticks in current market contain artificial colorants, paraffin and wax. These ingredients in lipsticks will cause peeling, cracking, lead and mercury poisoning, black lips, dullness, premature aging and so on with long term use. Therefore, the first principle when choosing lipsticks is healthy and natural!
Legend Age Healthy Cherry Lipstick is a natural and healthy lipstick with heme peptide bionic effect and "3-Dimensional" sun protection according to the various natural and green active ingredients.

4 major ingredients:
1. Western Indian Cherry Essence : Enhance lip blood circulation, brighten lip colour. 
2. Vitamin E Oil : Natural and powerful antioxidant can maintain the integrity of the cell membrane, keep moisture, prevent pigmentation, reduce lip wrinkle and prevent lip aging. 
3. Beeswax : Moisturize lips, reduce lip wrinkle, repair damaged lips and decrease lip problems.
4. Titanium Dioxide : Effectively reflects UV rays, reduce sun damage, brighten and protect lip skin 


Why is Legend Age Lipstick different?


Healthy and safe: 
Traditional lipsticks contain pigments with harsh chemicals that can irritate the skin, cause peeling, cracking and blackening of lips. These pigments, when digested, accumulate in your body over time and cause toxicity. Long term usage of toxic lipsticks can cause lip discoloration, damaged liver, failed kidney function (due to the paraffins ingested). 

How does it work? 
Legend Age Lipstick is made of natural ingredients which does not contain artificial pigment, lead and mercury. It is hence safe to consume after a long day of application. We have also sent the lipstick to Singapore's FDA to test for presence of any harmful ingredients to prove that our products does not have toxic ingredients.

Unique colors: 
What we all love about Legend Age Lipstick is that it gives every individual a unique natural color, depending on the health condition of our body. How does it work? The west indian cherry, one of the main ingredients of legend age lipstick, contains anthocyanin and iron which can be absorbed easily by our lip skin, causing lip color to change depending on skin's temperature, blood circulation, and pH value. The more acidic one's skin is, the darker the lip color will turn. Darker red indicates one's body is acidic whereas pink indicates one's body is alkaline. High acidity is a hotbed for all diseases. The Legend Age Lipstick can help to detect your body's health condition.

Long-lasting: 
The formula provides long time wear without residue after eating, drinking, or kissing. How does it work? The reason for long-lasting wear is because the main ingredients in our lipstick are cherry extracts and beeswax. These two ingredients contain rich iron, anthocyanin, vitamin C, and carotene, which could be easily absorbed by lip skin, promoting the appearance of your natural lip color)


Lip repair: 
Legend Age Lipstick instantly soothes cracked or chapped lips, reduces the appearance of fine lines (anti ageing functions) while at the same time, delivering nice healthy color for a natural look. How does it work? Thanks to the natural and organic ingredients, Legend Age is perfect for dry winter conditions where it hydrates and moisturize your lips. It a an even better substitute for the usual chapped stick or lip balm bought from stores.
Who is it for?


- Women who wears lipstick everyday. Replace your current lipstick with an all natural ingredient lipstick and notice the color of your lips change without any makeup. Go for a healthier lips with no chemicals! Ladies can also apply it to their faces as rouge or to their private part to heal dryness and discoloration.
- Suitable for children, elders and pregnant women due to its natural ingredients
- Men who have dry, chapped, dark, wrinkled lips can consider using for lip repair. 
- Suitable for people going/living in dry winter countries


Color Changing With Body PH Temperature
Lip Treatment of Refining Darkness, Moisturizing and Suitable for Pregnant Woman and Kids
Legend age Healthy Cherry Lipstick does not cointain any Lead & Mercury, Harmful Mineral Oil, pigment or Paraffin
Legend age lip stick contain castoroil, cocoa butter, Lanolin oil, Beeswax, Candel wax, Olive oil, Tocopherol, European sweet cherry, seed oil, Mica, Wild strawberry extract, Titanium dioxide, Benzyl citrate.
SGS Certificate FDA Certificate It can be used for moisture
color(according your lips PH value), and treatment.
Tips: put the lipstick into fridge before use.
After few days, your feel lip dry, lip peeling ans etc is normal. Please contuinue to use Legend Age healthy cherry lipstick.
✔Residues-free 
✔Sub-health detection
✔Kissing without hickey
✔Exclusive multiple color
✔Mosturizing refining with lip-lines fading
✔Pb-hg free , safety and healthy
✔Coloring easily
✔Multi-purpose




Apply to clean lips at least 4 times per day. Apply several layers for a brighter color. The best time for application is after breakfast, lunch, and dinner, and right before bed. The mucosal tissues on our lips are most susceptible to damage when it is the driest, which is usually after a meal. During night time, our metabolism is usually the most active, hence it is the best time for skin repair.

Apply daily for lip dryness repair and lip color repair 
---