---
Share On WhatsApp!
---


FOR A VERY LIMITED PERIOD...
Receive FREE Pancea Collagen Sachets with every order!
Click on the image below to read more information about Pancea Collagen!



Have you ever used an essence that produces oxygen bubbles?

The famous essence, Volume Tox original peptide essence which is sold 1 bottle every 10 seconds in Korea!

Start the amazing and all-in-one essence experience!



EVEN MEN USE IT TOO!





Volume Tox Original Peptide Essence 
▶ Volufiline + 8 Kind of Peptides + Centella Asiatica Extract 

 1.2 million bottles sold and counting 

 51 Premium Beauty Ingredients 

 Dermatologist-tested, HSA Approved & CGMP Certified


Volume Tox is an all-in-one skincare product. 
Correct skincare regime: Toner (optional) - Volume Tox - Sunblock (for day) - Followed by makeup 

Regardless of your skin type, Volume Tox Original Peptide Essence is perfect to add to your daily skin care routine simply for the wealth of benefits that it brings to the skin with each application!



THE SUPER POPULAR 2018 
K-BEAUTY SKIN-CARE TREND 
YOU NEED TO KNOW


HIGHLY RAVED AND ENDORSED BY TOP FAMOUS LOCAL INFLUENCERS!

- XIAXUE
- BONGQIUQIU
- MIYYAKE MYKXII
- RACHEL WONG



WATERSHINE GLASS SKIN WITH NO MAKEUP!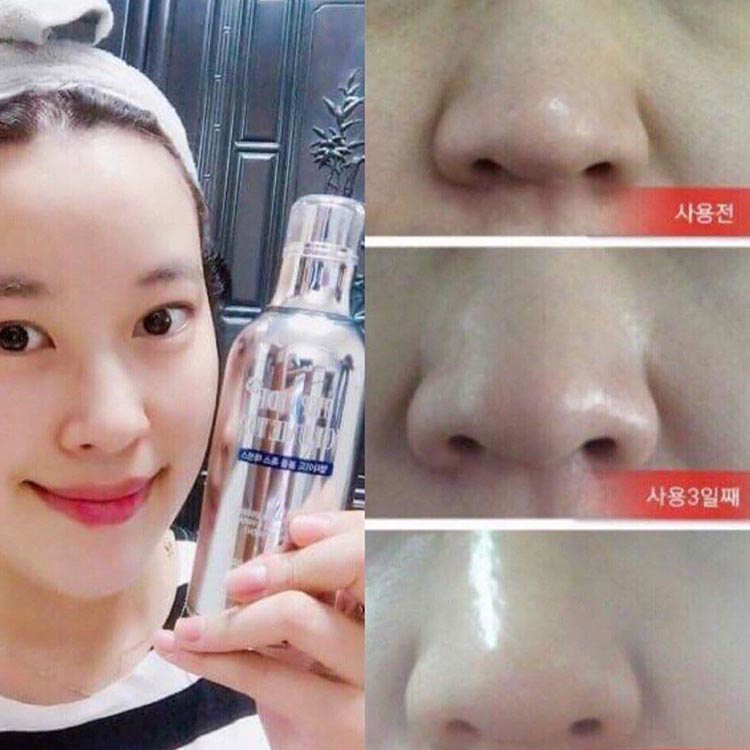 🎇Observe the translucent glow that 
mimics the appearance of glass!

 🎇Ultra-dewy, undeniably plump visage!

🎇Seriously shiny, healthy-looking skin!

🎇 Hydrated, dewy skin that's deeply plumped with nourishment!


What is the secret of having Korean
Watershine, Honey, Glass Skin? 



Volume tox original essence is cosmeceutical technique that improves the skin and natural cosmetic effect, it has no parabens, no alcohol, no animal raw materials and it is K-FDA certified.


What is Cosmeceutical? 
Refers to a product containing medically proven ingredients in cosmetics+pharmaceuticals.


A luxury ingredient for your precious skin
Highly concentrated peptides with nanoliposome technology from Pion-tech and major ingredients such as bourpyrin deeply work on your skin, creating a firm and healthy face.

It can be used for both women and men to heal acne, moisturize dry skin, brighten dull skin, and elimate fine lines and wrinkles.





BEFORE ---------------------> AFTER






Dermatologist-tested, 
HSA Approved & CGMP Certified 




▶WHAT YOU CAN ACHIEVE:
1. Overall skin hydration & 
radiance 
2. Fine line and wrinkles reduction
3. Lip volume and hydration
4. Rejuvenation of youthful skin

5. Even out dark eye circles
6. Even out & fade acne scars
7. Tightening of skin
8. Watershine glowing skin effect
9. Fairer looking complexion and corrects uneven skin tone


VOLUME TOX ORIGINAL PEPTIDE ESSENCE
ALL IN ONE SKINCARE
When it comes to skincare, there is often more than just one issue.  Your skin may be dull but it may also be lacking in moisture and firmness. It may be riddled with blemishes like acne and dark spots and also have enlarged pores and excess sebum. There is rarely only one issue, and this is why skin care products are evolving to have more than just one benefit. On the forefront of this evolution is Volume Tox Original Peptide Essence, an all rounded skin care product that addresses any and all issues on all types of skin in one simple treatment.


▶ 1.2 MILLION BOTTLES SOLD 
& COUNTING... ...
HIT ITEM IN KOREA & CHINA
What's the reasons why 1.2 million 
bottles were sold?


Note: There are many fake versions in the market, hence, PION TECH has rebranded and stamped the word (Orginal) with hidden tag 
in their latest 2018 batch.



▶  Recommended by models & celebrities in Korea



Now you know the answer to  watershine glow?


▶ 51 Premium Beauty Ingredients 



BEFORE WITHOUT WATERSHINE GLOW:


Apply the original volume essence evenly to your face, and let it absorb into your face when the bubble disappears after about 10 seconds.

AFTER WITH WATERSHINE GLOW:



VOLUMINOUS SKIN IN UNDER 2 WEEKS
(Effects known to mimic SKIN BOOSTER; 

肉毒+玻尿酸+美针+水光针, without any
 injection or pain)


A HOST OF DEDICATED INGREDIENTS
To understand just how effective Volume Tox Original Peptide Essence is at what it does, it is important to understand the roles of each natural ingredient infused in it as it cares for your skin.

 IT QUICKLY RESTORES LOST FIRMNESS 
With continued exposure to the elements of the environment we live in, it is sometimes impossible to avoid the skin being seriously affected. That youthful firmness that we hold dear is often times lost from extreme exposure, as the skin begins to sag and look wrinkled around pivotal areas of the face such as the forehead and cheeks.


Volume Tox Original Peptide Essence does an amazing job of restoring this firmness easily thanks to a number of wonderful ingredients.


 2 WEEKS TO FILL UP 

YOUR WRINKLES
 1. Nano Liposomal Fine Bubbling technology 
It is through this genius technology that when Volume Tox Original Peptide Essence is applied to the skin, bubbles begin to form in a reaction that penetrates the skin cells to increase skin volume and improve its firmness. This bubbly formula is made possible thanks to Pion-Tech's research and development team. Their ingenious use of nano-sized particles that spread on the skin easily creates a bubbly response to contact that allows it to saturate the skin with much needed nutrients.


 2. Centella Asiatica 
Volume Tox Original Peptide Essence is infused with Centella Asiatica or Gotu Kola Extract, a skin care herb dating back as far as the 17th century. Its presence greatly improves the circulation of blood to the skin tissue. This improved circulation significantly boosts the creation of collagen and by extension, the creation of fresh tissue to replace dead or dying skin. In doing all this it manages to strengthen your skin cell by cell, restoring its firm and bouncy structure while also doing away with sag and wrinkles.

 3.Volufiline 
Naturally derived from the roots of the Anemarrhena Rhizome, this is yet another key ingredient that restores skin firmness and adds to its plumpness. It does this by stimulating the synthesis of fresh tissue volumes in the skin, which adds to the overall plump and firm shape that prevents it from sagging or developing fine lines.


 4. Green Tea Leaf Extract 
This ingredient is lauded by professionals all over the world for its amazing anti-inflammatory and antioxidant effects. This is why it is included in this essence because it promotes the overall health of the skin with amazing antioxidant qualities, and heals it with anti-inflammatory properties. It becomes difficult for the skin to be afflicted by worry lines and wrinkles when the cells themselves are in good health because of the work of the Green Tea Leaf Extract.
Thanks to these ingredients you can turn back the clock on your skin with this amazing anti-wrinkle product that you can use to fight back the free radicals that cause the loss of firmness and prematurely age the skin with fine lines and wrinkles.  
Perfect for dry skin

As an all rounded product, it only follows that Volume Tox Original Peptide Essence's
ingredients are also perfect for people struggling with dry skin.


 Snail Secretion Filtrate 
This is one of the key ingredients that make Volume Tox Original Peptide Essence the ultimate moisturizer. Hydration is made possible thanks to the Hyaluronic Acid contained in this filtrate, which is able to absorb and hold water in the skin for long periods of time. This is amazing for dry skin because moisture will not be so easily lost anymore.

 Palm Oil 
This ingredient contributes to skin moisture in two ways. First it acts as an emollient, meaning that it penetrates the skin for that deep infusion of moisture to the cells. Secondly, it contains Oleic Acids which maintain the supple feeling of the skin by locking in moisture, allowing it to remain soft for long periods of time. This makes it the perfect moisturizing ingredient that keeps the skin hydrated throughout the day as you go about your daily activities. 
You can remain confident that your skin will still feel as smooth and supple in the evening as it did in the morning when you applied Volume Tox Original Peptide Essence!
Extra shine
To top off the list of benefits that come with using Volume Tox Original Peptide Essence is the radiance that the skin gets from the Rose Flower Extract. It is a natural astringent that leaves behind a glowing look on the skin by tightening up the pores themselves so that the skin looks smooth and glows as a result. This is similar to a water shine effect that is brought about when the skin itself shimmers with radiance.




SUPPLIED FROM KOREA HEADQUARTER PION TECH DIRECTLY.

DIRECT FROM BRAND OWNER
CEO & FOUNDER: 
MR KIM TAE GON
PION-TECH CO.LTD
100% AUTHENTIC




READY STOCK? 
3000 PCS READY STOCKS IN SG!
ALL ORDERS PROCESSED ON THE SAME DAY!!!




HOW TO USE?

Volume Tox is an all-in-one skincare product. 
Correct skincare regime: Toner (optional) - Volume Tox - Sunblock (for day) - Followed by makeup 

Step 1. After cleansing, apply 4 pumps to entire face & neck area (avoid eye area) 
*for oily skin, apply 2-3 pumps for a start 

Step 2. Gently distribute the essence all over the face 
*note that bubbles may not form if applied excessively* 

Step 3. Wait until bubbles are formed and appear.

Step 4. When bubbles start dissipating, lightly massage the essence in for absorption 

Step 5. Follow with sunscreen and make up in the day time 

** Tips: 
It is normal that bubbles dissipate at a slower rate in your first few applications, once your face is exfoliated on a regular basis (2x a week), the bubbles will absorb in quickly.


HOW LONG CAN IT LAST?

- Volume Tox is 100ml and it can last around 1.5 - 2 months (based on day and night usage)



---