---
Share On WhatsApp!
---
KLARITY Diamond Glow Overnight Masque
INSTANT EFFECTS FOR A YOUNGER-LOOKING SKIN!
1. Instant lifting
2. Diamond powder to give your face healthy glow
3. Instensely moisturizing
4. Promotes collagen production
KLARITY™ Diamond Glow™ DNA Overnight Nano-Mask is a rich overnight mask that recalls your skin's original DNA and restores to its best condition. It activates your skin's natural moisture defences and promotes your skin's collagen production. The luxurious textured formula glides on and melts into the skin where it works its magic overnight. From the very first application, the skin is illuminated, recovers its natural resilience, suppleness and radiance.
It is enriched with shea butter and olive oil extract to help keep the skin moisturized and smooth. In addition, these natural ingredients enhances the skin's elasticity. The diamond powder opens up pores, penetrating deep into the skin to break down stain molecules, giving a radiant glow.
How to use:

1. Spread evenly in thin layers on cleansed and dry face, avoiding eye and mouth areas
2.  Leave on sleeping mask overnight
3. Wash off

TESTIMONIALS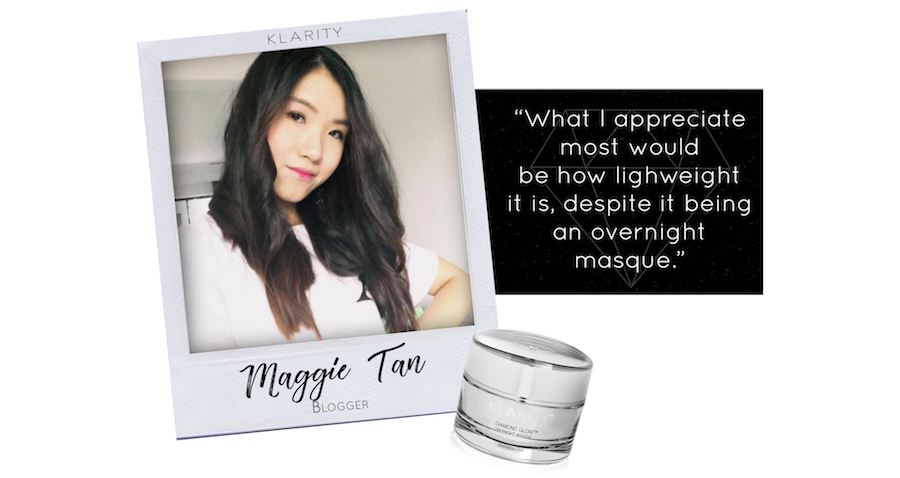 Beauty Blogger from Europe, Coco Lili:
"Klarity's Overnight Masque is my drug!"

MEDIA
CAUTIONS: KEEP OUT OF REACH OF CHILDREN. DO NOT USE ON SENSITIVE OR IRRITATED SKIN. AVOID GETTING IN EYES. IN CASE OF IRRITATION, DISCONTINUE USE AND CONTACT A PHYSICIAN. USE ONLY AS DIRECTED.
---