---
Share On WhatsApp!
---
FAIRY TRIP SPA MASK
- NO Alcohol! 不含酒精!
- NO Fluorescent Brigtening Agent! 不含荧光剂!
- NO Lead & Heavy Metals! 不含铅和重金属!
- 100 % Attached to your skin! 百分百服贴!
SUITABLE FOR ALL SKIN TYPE, PREGNANT LADIES & KIDS TOO!!
1 box= 5powder + 5essence lotion
can use for 12-15times
COMES WITH FREE MIXING BOWL!
FAIRY TRIP ROSE SPA MASK


- Brightening- Hydrating- Remove whiteheads- Reduce fine lines- Reduce excess oil on face
深层清洁,调节水油平衡,美白保湿,去除闭合性粉刺,淡斑,收缩毛孔,祛除暗黄提亮肤色!

-whitening premium choice
-skin ligthening
-fade scaring result of acne
-purify and whiten your skin tone
-moisturize skin for a soft healthy texture
-reduces apprearance of hyperpigmentation
-suitable for most of the skin types(not advisable for hypersensitive skin)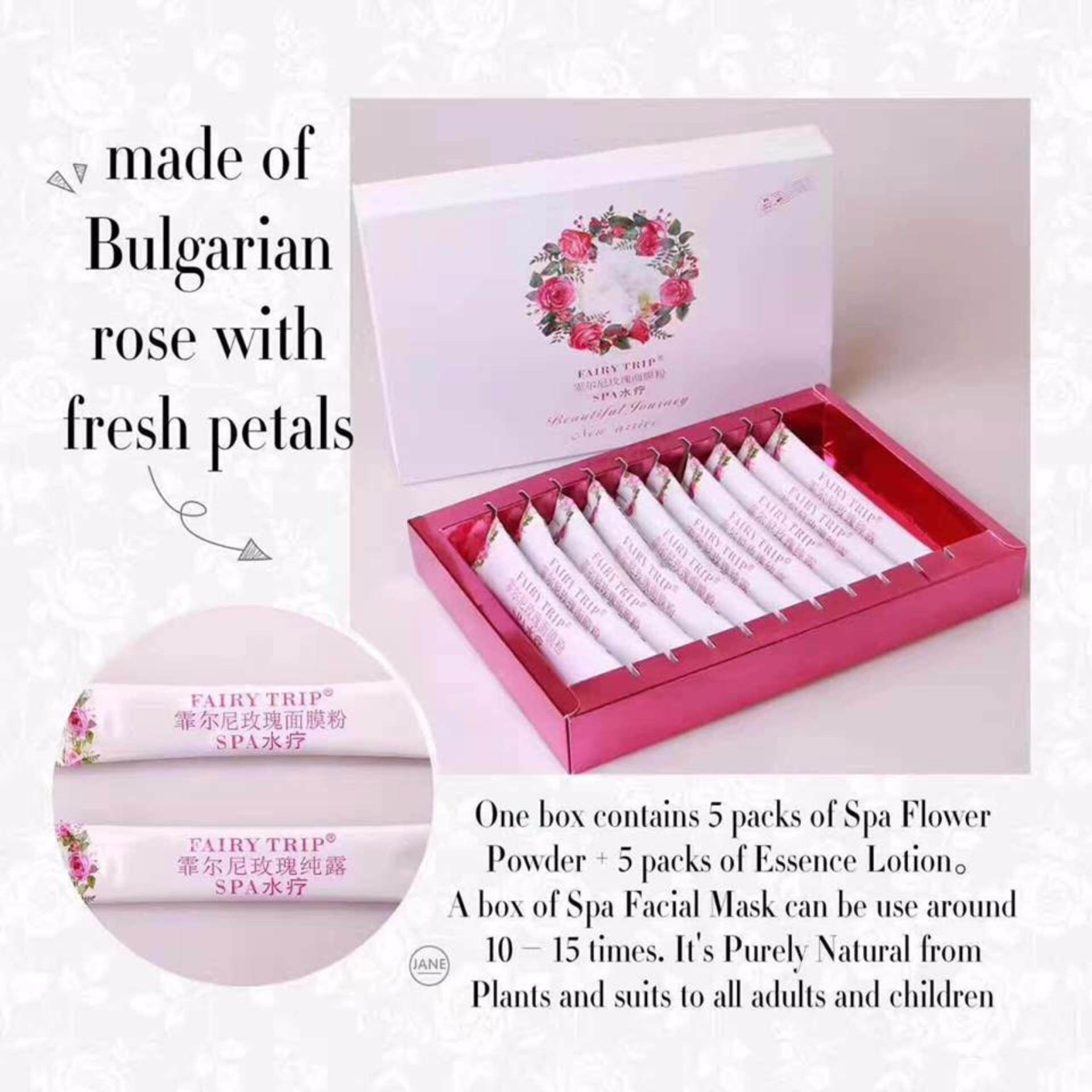 FAIRY TRIP CHAMOMILE SPA MASK

- Calming - Soothing - Reduce redness & acne - Hydrating - Repairing sensitive skin
补水、保湿、抗敏、修护且适合于任何肤质。


-Helps soothes and rejuvenates skin, 
-moisturize skin for a soft healthy texture,
-reduce allergy and redness,
-reduce acne and pesky pimple
-ligthen acne scars(pitted,ice picked scars) 
-Suits ALL SKIN TYPE especially for sensitive and acne prone skin

Each box of Fairy Trip Mask contains of 5 sachets of mask powder and 5 sachets of essence lotion.
You may use it on your face, hand , neck, lips or any part of your body. 
Due to natural ingredients, you dont have to worry if you accidentally swallow it!!


Main Ingredients of the Mask Powder


成分

INCI

特性

安心度

硅藻土

Solum Diatomeae

☆☆☆☆☆

玉米(ZEA MAYS)淀粉

Zea Mays (Corn) Starch

- 粘度控制剂
- 稠化剂
- 吸附剂
- 研磨剂
- 抗结块剂

☆☆☆☆☆

硅石

Silica

- 粘度控制剂

☆☆☆

藻酸钠

Algin

- 粘度控制剂
- 稠化剂
- 结合剂

☆☆☆☆☆

硫酸钙

Calcium Sulfate

- 不透明剂
- 研磨剂

☆☆☆☆☆

果胶

Pectin

- 粘度控制剂
- 稠化剂
- 安定剂
- 结合剂

☆☆☆☆☆

透明质酸钠

Sodium Hyaluronate

- 保湿剂
- 肌肤调理剂

☆☆☆☆☆

Main Ingredients of the Essence Lotion



HOW TO USE???



1) pour out half sachet of mask powder and essence lotion into a clean bowl and mix well
* if you have sensitive skin, we recommend you to add distilled water or your own skin care lotion with the mask powder.
2) stir the powder and essence lotion in the same direction whithin 1 minutes
3) apply the mixture on your face and wait for 15 minutes
4) The mixture will slowly form into gel
5) pat some water on ur face before take it off
6) clean up ur face with clear water
7) Done ! you may continue with your daily skin care routine!!
Customer Reviews!!
Reduce Redness and Acne

Reduce clog pores/ whiteheads去除闭合性粉刺

Reparing & Improve your skin condition!

---