---
Share On WhatsApp!
---

La Riche Directions Semi Permanent Hair Dyes
How to apply Directions
Please ensure you have performed your
Strand and Skin Sensitivity tests beforehand.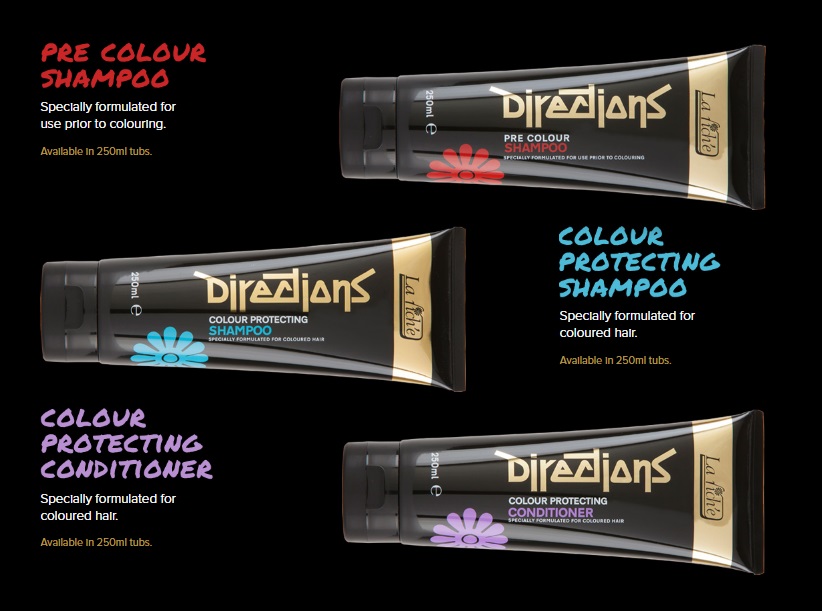 La Riche Ltd have been established since 1981 - the year we launched the first ever Directions hair colour tubs from a very humble work room in the UK. At the height of the fashion explosion these unique tubs of colour rocketed and have been supporting fashion trends and styles worldwide ever since, even landing themselves on a few celebrity heads on the way.
With no ammonia, peroxide or PPD and a strict in house 'no animal testing' policy - Directions Semi Permanent Hair Colour is not only the best fashion shade of choice, it's also the safer way to colour.   
To sit alongside Directions we also have a whole range of complimenting products including shampoo's, conditioner, colour and lightening kits and even a very successful tattoo aftercare balm. 



Frequently Asked Questions
Are any of your hair dyes tested on animals?
None of the products featured on this website are tested on animals.

How long do your hair dyes last?
The length of time which Directions semi-permanent hair colour stays vibrant in your hair will vary depending on your hair type and condition. As all hair types are different we cannot give any longevity to the colour. Due to the nature of the product some colours may leave a permanent stain on blonde or bleached hair.
Will your semi-permanent hair dyes lighten or brighten my hair?
None of Directions semi-permanent hair colours will lighten your natural hair colour as they do not contain any peroxide or ammonia. If you would like to achieve a bright vibrant colour we recommend that you pre-lighten your hair using a bleach based product. Do NOT mix peroxide with these hair dyes. If you do not wish to pre-lighten your hair, darker hair will achieve a subtle tone or hue, not the intense shades as represented on our colour charts – these are based on blonde or pre-lightened hair.
---