---
Share On WhatsApp!
---
MAKE UP ERASER CLOTH Removes 100% of your makeup with just WATER! Highly Raved! Sold in Sephora!
The Original MakeUp Eraser
Makeup Remover Cloth

Remove stubborn make up with water ONLY!!

Retailing US$20 in Sephora
Seen on TV
Highly recommended by beauty Vloggers!!



 No need to spurge $100++ on makeup remover!!
 Just a cloth and it's.. reusable 










Is this a gimmick?
Check out Blogger Verdict!!

Verdict:
"This is a great product!"




The MakeUp Eraser removes 100% of your makeup with water only.  

Just wet the cloth and remove your makeup. This includes waterproof eyeliner and mascara, HD makeup and much more. The best part is…it's reusable. Throw it in the wash and no stains remain. The MakeUp Eraser will last up to 1,000 washes and eliminates the need to buy disposable product to remove your makeup.  The MakeUp Eraser cloth with a hand-sewn sateen edge that's plush and soft to the touch. Treat yourself to a spa at home every day, while saving money!
So when I first heard about this product, I was excited but skeptical AF.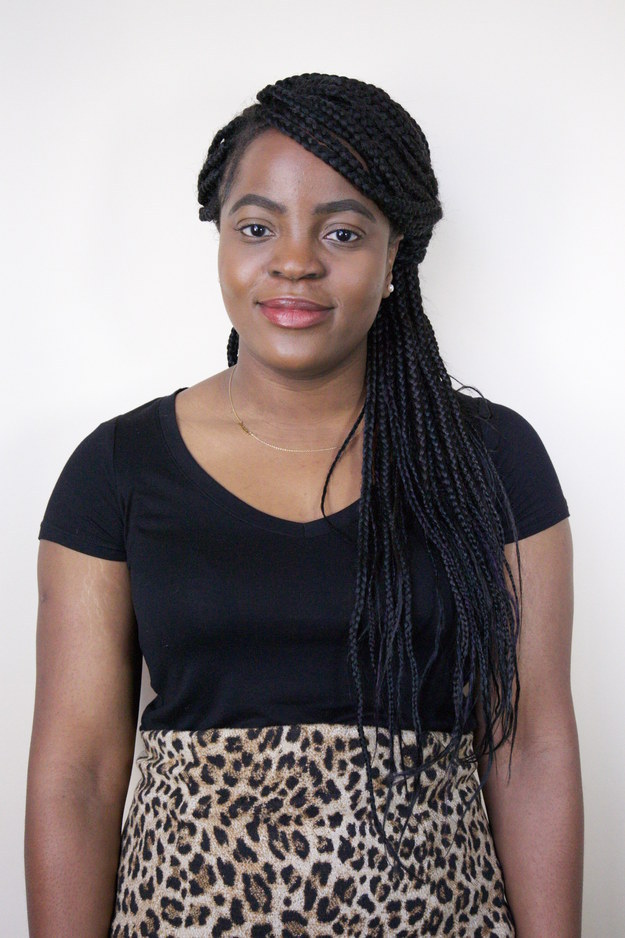 Lynzy Billing / BuzzFeed
HOW? How does a cloth and some water take off all my makeup when it usually takes a double cleanse, eye makeup remover, and an extra rinse. It just didn't make any sense to me. But I was so willing to give it a try.
When I got my hands on the product, my initial thought on the cloth was: "This looks like something you get in Poundland." The packaging is bright pink, and the cloth is an even more offensive bright pink. Although it did feel nice and soft, and had no smell (yes, I sniffed it).
To really test it out, I wore a whole load of makeup. Concealer, foundation, highlighter, lipstick – the whole shebang. I wasn't going to make it easy for the cloth.
The instructions were pretty basic: Wash the cloth, drench it with warm water, and then wipe your makeup away.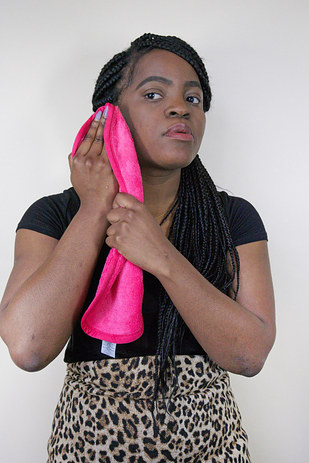 With just a few gentle swipes, a lot of my makeup came off. Still feeling slightly dubious I swept off my eye makeup, waterproof mascara, and heavy-duty brows ( I'm growing them out after my ex eyebrow lady ruined them). And to my surprise it actually removed a lot of my eye makeup without the usual raccoon-eye situation. Now I'm really freaking impressed.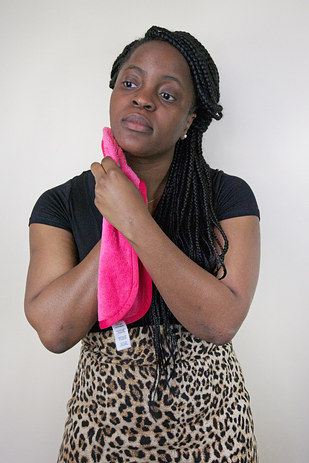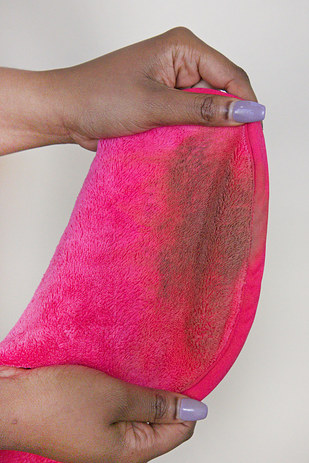 Despite my fears that the cloth was going to irritate my skin and leave it feeling crap, it was actually really gentle and I felt pretty fresh-faced after using it. I have been using the cloth for five days now, and my skin feels fine. I don't even feel the need to wash or rinse my face afterwards, although I do moisturise my skin every time.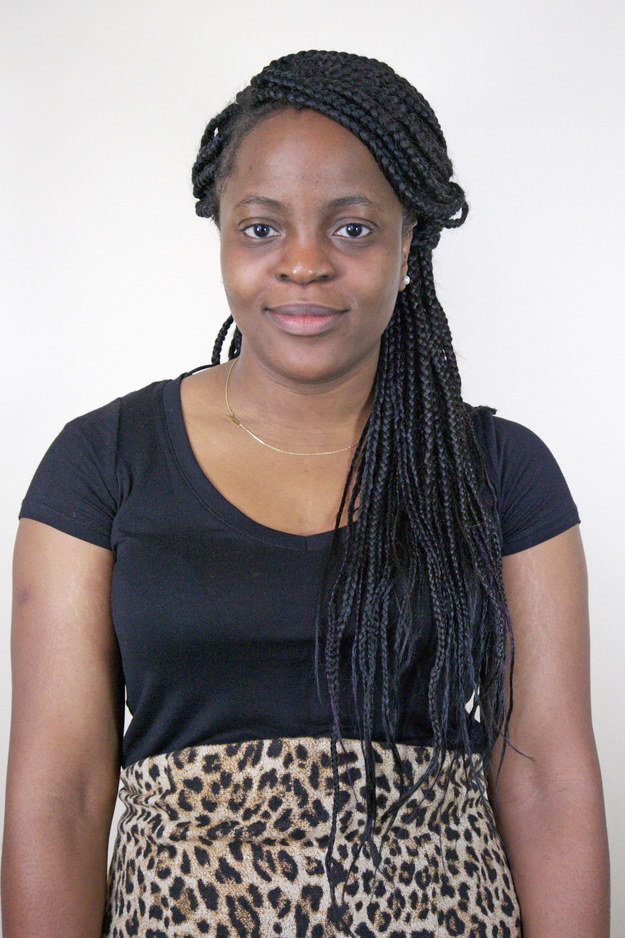 Lynzy Billing / BuzzFeed
I got my colleague Chelsey to try it too, mainly because I wasn't doing this alone, plus she has a different skin type to me.
Chelsey: I'm a lazy person with sensitive skin who hates waste, so I was super keen to try a product that promised both minimal work and minimal waste.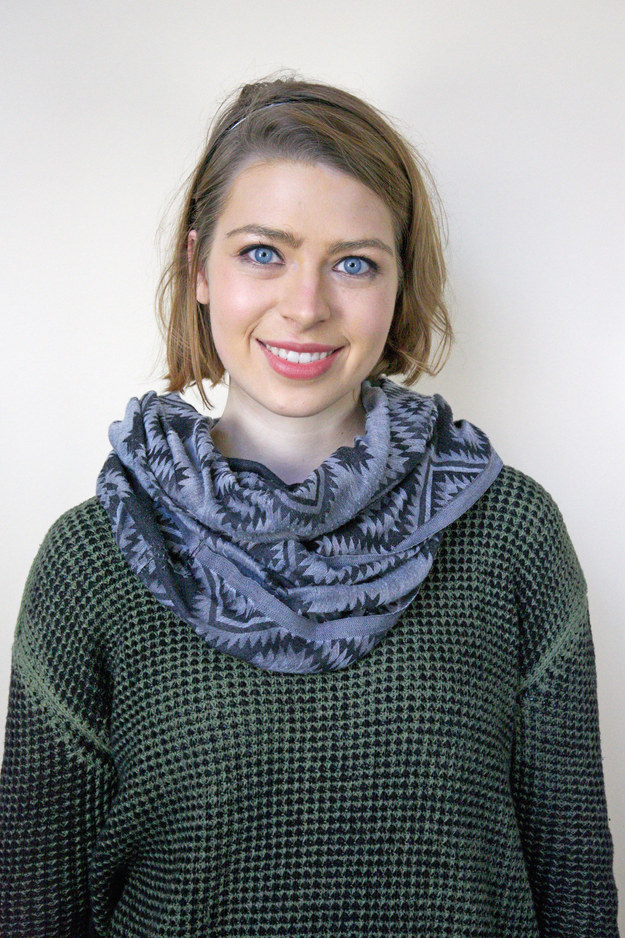 Lynzy Billing / BuzzFeed
OK, LET ME PREFACE, I'm never actually that yellow. I know how to do my makeup. You can trust me. More on this later.
One of the most daunting things about makeup, to me, is dealing with taking it off at the end of the day. I can scrub for 10 minutes, or use 10 remover wipes, and still have mascara smears under my lashes, so needless to say, a pitch that says all I need is this towel, some warm water, and one good rub was exactly what I wanted.
On a typical day, I go for a light, natural look. My skin is combination-dry, and I have eczema, so I tend to mix a few dabs of a darker-shade foundation with a dollop of hypoallergenic moisturiser to avoid irritation, and brush over with translucent powder. I add a neutral eyeshadow, waterproof mascara, and a lip and cheek stain.
I went heavier on the day I tested the cloth; I wanted to see how it stood up to a really full face of makeup.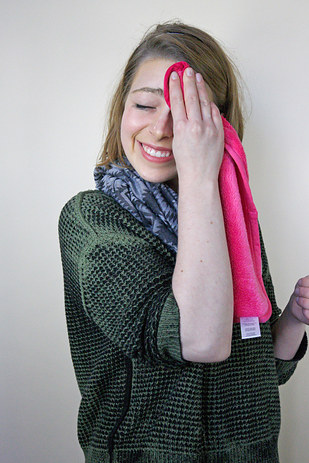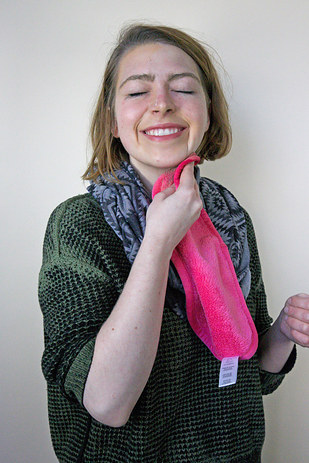 I applied foundation sans moisturiser, translucent powder, cheek and lip stain, a heavier brown shadow, and kohl eyeliner.
A combination of not lightening my foundation by about 60% with moisturiser (as per my usual) for the sake of this experiment, and layering it on in our weirdly dim office toilet, led me to a bit of a jaundice situation. I'm sorry to all those commenters I have undoubtedly offended. Forgive me, internet.
I WAS impressed that just a dip in hot water led to such an instant removal of my foundation and cheek and lip stain. The thick layer of powder, shadow, stain, and foundation came off within a minute, which was really exciting! My eyes took a bit more work, and I was a little disappointed that even after a few minutes of rubbing, my mascara and eyeliner were still visible, and I had some admittedly tiny but still present raccoon eyes.
I carried on using the cloth throughout the weekend.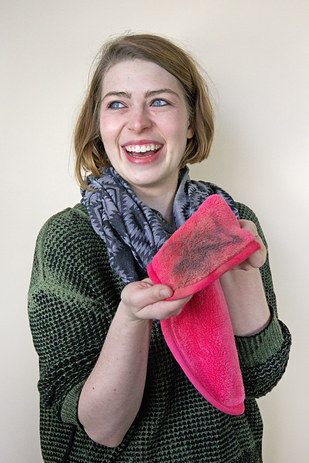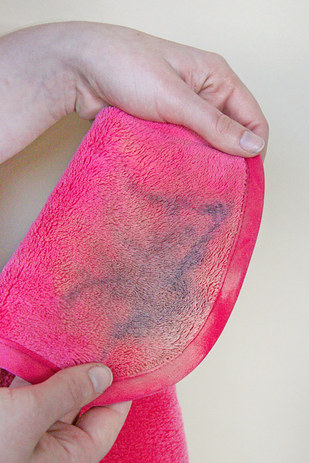 And it carried on removing my shadow, foundation, and stain, admirably, but even when I toned down my liner and mascara game, it still failed to deliver and I had to go back to cotton balls and eye makeup remover.
The best part was that the cloth was really gentle on my skin and I didn't experience any irritation or dryness beyond my usual. I applied moisturiser following every use, and went to bed feeling pretty fresh-faced!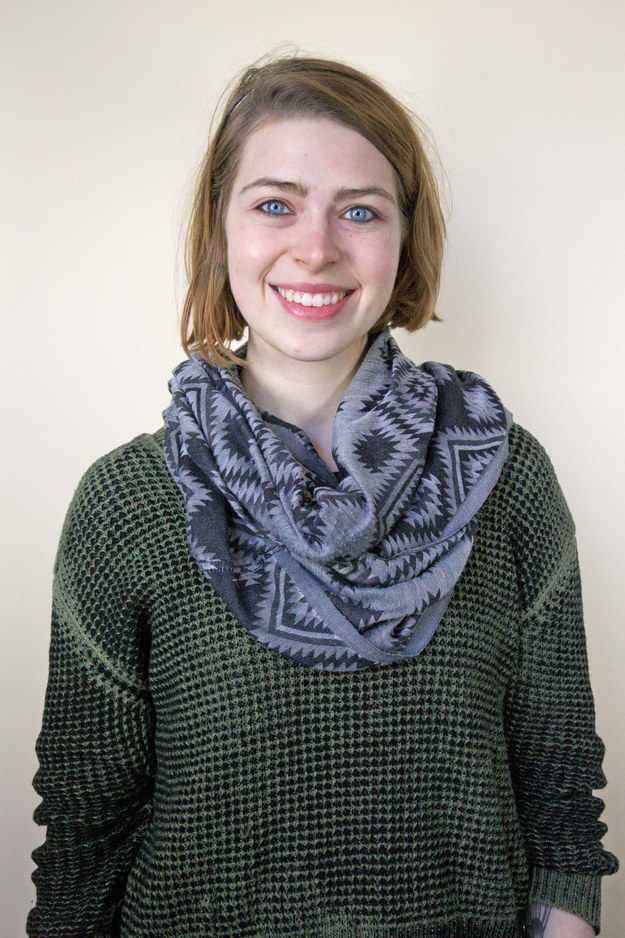 Lynzy Billing / BuzzFeed
After using the cloth we wiped our faces with wet tissue, and the tissues were basically makeup-free.
---