---
Share On WhatsApp!
---
WOWO NOURISHMENT BISCUITS + SWEET! 
100% AUTHENTIC! OFFICIAL WOWO DISTRIBUTOR! FREE COURIER! 
BE THE FIRST TO TRY THE LATEST WOWO PRODUCT HERE AT SWANHEARTX, BEFORE EVERYONE ELSE!!!






WOWO Moshu Nourishment One Plus One Biscuits + Sweets!
Meal Replacement for Diet, Weight Loss and Slimming!
Each box has 10 Biscuits + 10 Sweets

Nourish your body and slim down the healthier way. 
Handy and small enough to bring it anywhere to replace this with your meal if you 
1) Have no time to eat a proper meal
2) Wish to slim down and lose weight!

Who says dieting needs to be all about cutting out your favourite sweet foods and desserts, and depriving yourself of happiness?!
Now you can slim down and lose weight by eating biscuits and sweets!!! How interesting is that??!! You know you need to try this!!!
吃出健康,吃出好身材!




Seaweed flavoured biscuits + Strawberry flavoured sweets
Healthy, nourshing, packed with nutrients, and very filling!
Satisfies your sugar cravings, Prevents you from reaching for that chocolate bar, or opening that bag of chips for supper, when you feel the hunger pangs / 'itchy mouth'!

The sweets aids in digestion, and soothes constipation! 
Helps to detox, and clear your bowels smootly!

See results in 15 days!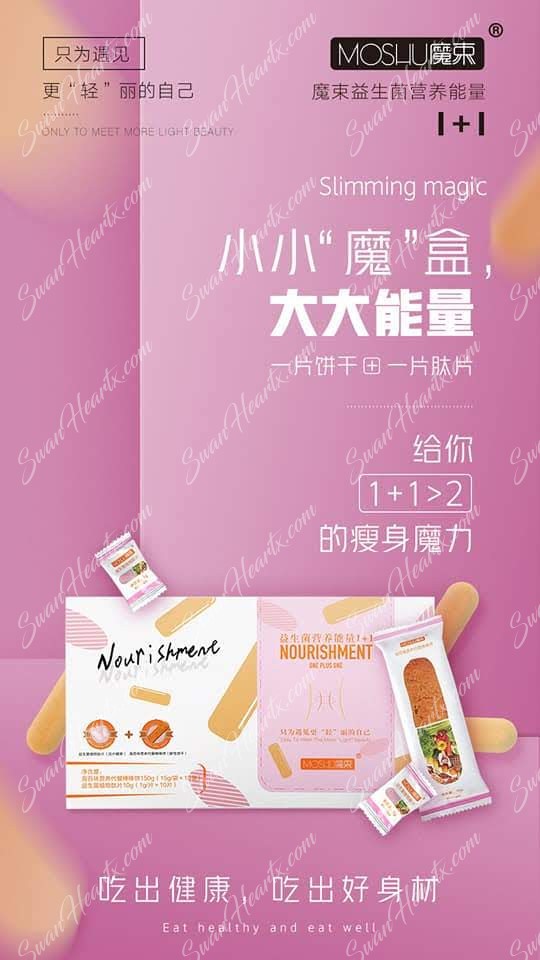 HOW TO CONSUME?:

Choose between 3 different levels:
Normal / Medium / Fast
Follow the chart below!:





INGREDIENTS:


---