---
Share On WhatsApp!
---
Wowo Collagen Peptide Eyecream with Built In Vibration Massager (20ml)

-Comes with vibration head
-eye area massager
-High absorption
-Skin tightening
-Hydration
-Moisturization
-Brighter eyes
-Anti-wrinkles
-Helps Crow's feet
-Lightens dark circles
-Helps puffy & saggy eyes
-Eliminates Edema

!!!Every Woman Must-Have Gorgeous Youth Gold Stick!!!

Directions for use:Squeeze out eye cream,turn on the vibration and massage eye area for 3 minutes on each eye
Eye Beauty- Anytime, anywhere!
WOWO Collagen Peptide Eye Cream is carefully designed with a titanium alloy massage roller, which has rapid improvement for pore tightening, instantaneous eye pattern and eliminate bags under the eyes with a sense of relaxation. Long-term usage improves dark circles and saggy eye bags.
Wowo eye cream suitable for people with eyes bag, wrinkle, dark circle and etc, 
Wowo eye cream have a built in massage tip to help in penetration and massage for better absorption lifting effect
.
Eye cream ingredient
1) chamomile - helps to calm the nerves after long day of straining, anti aging, moisturizing and cure allegy2) coleus forskohlii - help to clear blur vision (when massaging)3) chlorella- help in activating and repairing of cells, antioxidant, promote tissue cell growth4) Squalane - diminish chloasma,lighten dark eye ring, reduce water retention, increase metabolism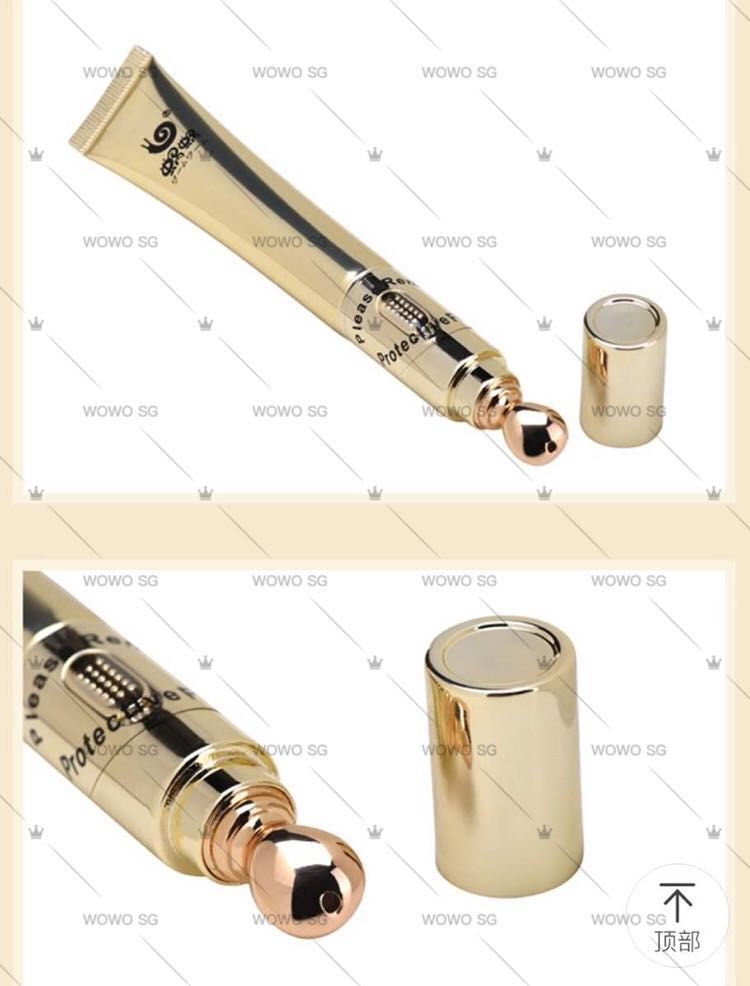 Safe, Effective and Trusted
Why is Wowo so good? Answer:👇 👇 👇 👇 👇
🔹1️⃣ HSA Certified. ✅
🔹2️⃣ It has pharmaceutical records ✅
🔹3️⃣ It is SGS certified ✅
🔹4️⃣ 2 CCTV awards, 106 TV ads, 1st to be advertised on NBA ✅
🔹5️⃣ Authorised 《Hair Concept》✅
🔹6️⃣ Improved millions of beauty, skin and hair problems ✅
🔹7️⃣ It is internationally registered®️✅
---