---
Share On WhatsApp!
---
Wowo Myrothamnus Flabellifolia Face Cream 50ml
Have you heard of Myrothamnus Flabellifolia before? It is a plant species found in South Africa known as 'resurrection plant.' It's rich in 'quinic acid esters',very potent anti-oxidant which effectively moisturises dry skin. Repairs and moisturises our skin membrane. It effectively locks the moisture within your skin.
Yes, it's a very high end ingredient which can cost up to $200+ per bottle for some of the brands! Have you tried it before? Wowo Myrothamnus Flabellifolia Face cream retailing lesser than 50% of the $200+.
✔Deep hydrating and moisturising effect
✔Brighten dull & dark skin
✔Reduce pigmentation, melanins and even out skin tone
✔Anti-wrinkle, smoothen dry lines and wrinkles
✔Lifts and firms sagging skin
✔Safe with no artificial additives; suitable for pregnant women
✔Economical with high end ingredients
Benefit:
-Intensive repair and hydration.
-Effectively moisturises dry skin
-High anti-oxidant, anti-aging and firming.
-Lighten fine lines and wrinkles.
-Improve skin radiance and even out skin tones.
-Safe with no artificial additives.
-Suitable for men, ladies and pregnant woman.
Combat your 3Ps, Pores, Pimples and Pigmentation with our "WOWO Myrothamnus Flabellifolia". The painless Acne remedy empowers dry-cleansing of the skin without the fear of high costs, downtime and side effects. Immediate MOISTURISE and Feel your skin supple in just one application!
*For best result, use with WoWo Tea Polyphenols Skincare Range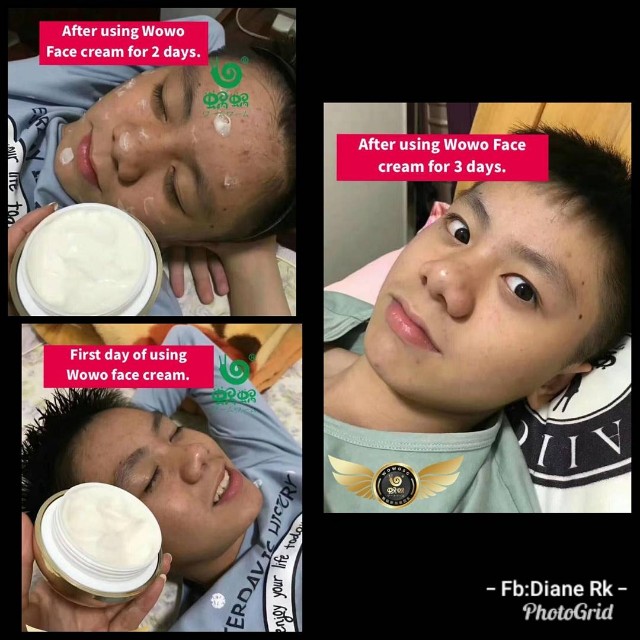 Why is Wowo so good? Answer:👇 👇 👇 👇 👇
🔹1️⃣ HSA Certified. ✅
🔹2️⃣ It has pharmaceutical records ✅
🔹3️⃣ It is SGS certified ✅
🔹4️⃣ 2 CCTV awards, 106 TV ads, 1st to be advertised on NBA ✅
🔹5️⃣ Authorised 《Hair Concept》✅
🔹6️⃣ Improved millions of beauty, skin and hair problems ✅
🔹7️⃣ It is internationally registered®️✅
---